Pirates First Half Recap Part 2: Top Story Lines from McVP to Zoltan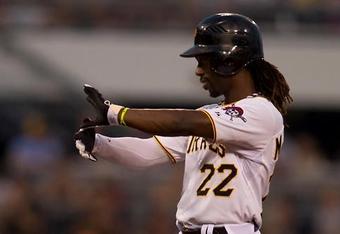 C'mon Pirates fans, you can't say that you aren't happy. The team is a 11 games over the .500 mark and looking better by the game. The starters string together enough quality innings for the bullpen to keep the game close while the lineup continues to produce from 1-8 even if no one can predict who is going to step into the role of hero for the night. The first half of the season was full of downs and ups but the best part about baseball? The season is long enough that these sways string together stories that fans remember for a lifetime. Here are some of the best of 2012 so far…
National Media Attention
It's always a plus when in baseball a team other than the Yankees or Red Sox gets a legit conversation on MLB Network and ESPN. This happened last year for the Pirates twice: when they took a 1/2 game lead in first place and after the Jerry Meals game. Now, the Pirates are garnering media attention for the same reasons as last year except everyone agrees they're better. Better pitching, hitting and mentality will carry the Bucs into the second half of the year ready for the bright lights of being the national underdog. The phrase "first time since 1992″ will be heard so much you'll end up knowing more about the 1992 team than this one.
Trade Deadline Rumors
This goes along with the above, but everybody wants to know what Cinderella can do to get ready for the ball and the Pirates are being mentioned in the same breath as Zack Grinke and Cole Hammels. Most Pittsburgh media members agree the Pirates shouldn't sell their still fragile farm system for a rental, but names like Carlos Quinton and Justin Upton are now being thrown around…and are viable options. It's way more fun being a buyer rather than a seller at deadline time, but the fact that the Pirates are willing to aggressively pursue options to fix weak links shows a win-now mentality; something completely new for a generation of fans.
Matt Hague and Drew Sutton
Not to take away from either player, but the way these two role players have been loved by the Pittsburgh fans is worth noting. Hague had a phenomenal spring that earned him a spot on the Opening Day roster. Hague never had consistent success at the big league level, but a few timely hits early in the year put him on everyone's radar. Drew Sutton is the Matt Hague of late, going on an unreal tear of .313 BA .333 OBP and .875 OPS for a guy who was traded twice this season already. This is his second stint with the Pirates this year (the first lasted just about 24 hours, and no I'm not joking) and he's made an impact as the guy presumed to hold fort until Starling Marte comes up. Every great team has a handful of role players who's glory days come together. Hopefully, that's the case for these Pirates.
A.J. and J-Mac
Not quite the 90′s band they sound like, Burnett and McDonald may be two of the biggest variables that have swung the Pirates into success. A.J. Burnett's deal was one I loved from the beginning as a low risk-high reward play for an experienced, proven, veteran pitcher the Pirates have always lacked. A.J. came in and reinvented himself as a Pirate and his presence has greatly affected James McDonald. A.J and J-Mac are similar players: emotional yet incredibly talented and sometimes the former gets in the way of the latter. A.J. calmed down this season and has the results to show it (10-2, 3.68 ERA 79K) while moments like pie-ing Sutton in the face after a walk off show his goofy side. J-Mac has studied all of this and become the ace of the staff (9-3, 2.37 ERA WHIP .097) and is baffling all opponents. If he can continue this run into the second half and September, there may be Cy Young chants coming.
ZOLTAN
The Pirates go on a road trip and come back flashing Z's with their hands and everybody scratches their head. Pirates win while doing this and no one asks any questions. That's basically how this Zoltan thing got started. The Z references a scene in Dude Where's My Car and has been the "big play" symbol for the Pirates. The Bucs aren't the first upstart team to do this as the Texas Rangers have the Bear Claw and Antlers. The best part about this trend is not how it has united the players or how Rod Barajas and Josh Harrison celebrated walk off wins with "high Z's" but how the fans have identified with the trend. It makes everyone feel apart of the same team and a huge reason why fans seem to have fallen more in love this year than last year.
McVP: McCutchen IS Pirate Baseball
This is undoubtedly the story of the 2012 Pirates. Andrew McCutchen's numbers are just plain silly. The face of the Pirates is playing so well he's most experts' first half MVP winner and now is in the conversation for best baseball player, period. If you didn't click on those links, they are an example of how the National Media is jumping on the bandwagon of the newly inked face of the Pirates. McCutchen's numbers, if they hold out, would easily be the best statistical season of any Pirate and he would be in the conversation of greatest season EVER in baseball history, especially if he took home an MVP award and a Gold Glove. He's so good, Pirates fans wonder why other teams pitch to him. He's so focused, he hasn't let any of this change the fact that he thinks team first. He has so much SWAG it's only a matter of time before he inks with Nike. He is an athlete who chose baseball and who is a success of the Pirates development system. He's a leader and a men among boys when playing. If he falters, the Pirates have no shot at a playoff spot or .500. If he continues to do well…then watch out. This could be the year.